Chickens conquer York!
Last Friday, 30th of January, our periodic meeting took place at the Department of Archaeology at the University of York. The team members met to discuss advancements in their disciplines, share and integrate results in an interdisciplinary framework, while aligning short term objectives for the coming months (sampling strategy, outreach and scientific dissemination). Two guest scholars expanded our research agenda by bringing their experience in working with very early chicken remains from Eurasia. Lee Perry from the University of Haifa shared her recent finds of early chicken consumption in Israel. Joris Peters from the Ludwig-Maximilians-University of Munich reviewed the key issues behind our understanding of chicken domestication process. We were also very pleased to welcome Barry Smith and Dot Fallon and were keen to share our developments with them.
The meeting closed with a vibrant afternoon of public presentations attended by students, staff members and the general public. The co-directors presented their contribution to the project and discussed how the history of chickens is tightly entwined with our own cultural trajectory. By understating the rise and fall of the once noble chicken - from early domestication to fast food - our team members emphasized how archaeologists can uniquely contribute to debates around current issues facing modern societies, such as sustainability and animal ethics. In the landscape of science, it is a real pleasure to see how this interdisciplinary project is becoming a unique landmark for researchers and non-specialists looking for the cultural forces driving human-chicken interaction.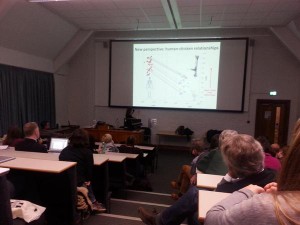 Follow us
Keep up to date with the latest project news via our Twitter feed.

ChickenCoop
@Chicken_Project