Chickens in video games: an interdisciplinary collaboration between archaeology and ethics
One strand of interdisciplinary activity taking place as part of the Cultural and Scientific Perceptions of Human-Chicken Interactions project is a collaborative research endeavour using archaeological and historical evidence of human-chicken relationships to reveal ethical tensions and disparities of perception with regard to the ways in which humans and chickens interact in one particular digital environment: video games.
Dr Tyr Fothergill at the University of Leicester (our researcher studying past chicken husbandry through signs of disease and injury) and Dr Catherine Flick, a senior lecturer in the Centre for Computing and Social Responsibility at De Montfort University, have conducted a qualitative analysis of the presence and portrayals of chickens in different video game environments. Chickens are frequently present in video games, and this research involved examining digital depictions of chickens and chicken-player interactions in 55 video games dating from the early 1980s to 2016, as well as public online forum postings made by players discussing experiences of interactions with video game chickens.
Drs Fothergill and Flick used an applied ethics approach to reveal gaps between the many different roles and relationships of chickens in the past, and the ways in which chickens and their relationships with humans are perceived and presented in video games. Beyond anticipated disparities such as welfare expectations (which have changed over time), the archaeological and historical aspects of this work illustrate the entangled, complex nature of human-chicken relationships, and how these interactions link in to current perceptions and social concerns evident in video games, including violence against non-human animals as entertainment, toxic hegemonic masculinity, and narrative portrayals of gender roles. In addition to highlighting the relevance of changing human perceptions to problematic digital relationships and how video game interactions can shape lived "meatspace" relationships, the conclusions of this research provide constructive suggestions for alternative ways of presenting digital human-chicken relationships.
Early results of this research were presented at ETHICOMP in Leicester in 2015, with a further paper, Clucks and Clicks (link automatically activates audio) delivered at The Interactive Past Conference organised by VALUE (Videogames and Archaeology at Leiden University) to an audience of "traditional" and digital archaeologists, heritage professionals, game developers, members of the public, and university students.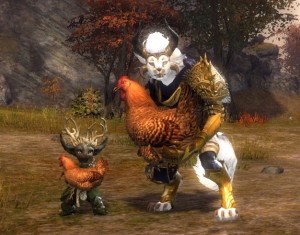 Drs Flick and Fothergill also gave a brief interview to Eleanor Flegg for RTÉ's Culture File on how archaeology and ethics inform on digital human-chicken relationships (link automatically activates audio). Their research was also featured on Idle Thumbs, a weekly podcast run by members of the video game industry, and there are plans in development for a streaming guest lecture for the IT and Ethics group at the University of Turku, Finland.
An article outlining the origins of this research was featured in SIGCAS Computers & Society and a forthcoming online Open Access volume on archaeology, history, heritage, and video games, "The Interactive Past", will include a co-authored, historically-focussed chapter entitled "Chickens in video games: archaeology and ethics inform upon complex relationships". The final output of this investigative strand has an emphasis on philosophy and ethics, and it will be submitted to the Journal of Information, Ethics, and Communication in Society in 2017
Follow us
Keep up to date with the latest project news via our Twitter feed.

ChickenCoop
@Chicken_Project
— 3 years 8 months ago

— 4 years 5 months ago

— 4 years 6 months ago

— 4 years 7 months ago