Sampling Extravaganza and Roman Rendezvous
With our second big project meeting fast approaching, we are all looking forward to catching up and hearing how all the different strands of research are progressing. More details about what each member of the team is doing are outlined in Mark's recent AHRC blog post: http://www.sciculture.ac.uk/cultural-and-scientific-perceptions-of-human...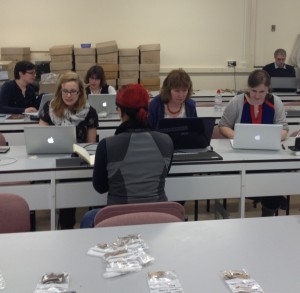 We have certainly been keeping busy. The other week a large delegation from the team (consisting of Mark Maltby, Naomi Sykes, Julia Best, Alison Foster, Tyr Fothergill, Ophelie Lebrassuer, Holly Miller and Kris Poole) descended upon Reading University. The aim was to investigate the Anglo-Saxon site of Lyminge in Kent and target the chicken bones for scientific analysis. This site has an exceptionally large number of chicken bones for its date, particularly for the Monastic phases of occupation, and many of them were very (very) old, exhibiting considerable evidence for arthritis.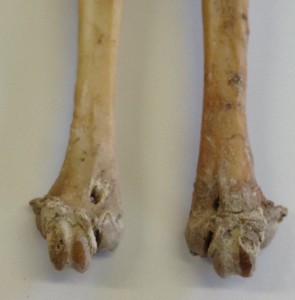 Zoe Knapp, a PhD student at Reading, is working on the animal bone assemblage from this site, and with the input of Gabor Thomas, we plunged into the material to extract all the chickens and locate ABGs. An 'ABG' is an 'Associated Bone Group' such as an entire chicken deposited in the bottom of a pit, or placed in a human burial. These ABGs are very valuable for conducting multiple types of analysis on an individual chicken, including metrical analysis, isotopes and aDNA. By linking all of these lines of evidence together and combining it with traditional zooarchaeological data such as age and sex, we hope to be able to see the wider picture of human chicken interactions. For example, if we have a group of large, male birds occurring in human male graves we can start to investigate the birds' diet, their physical form (size/shape) and whether they are a different type of chicken to others in the area. The possibilities are endless!
Some of the team (Mark, Tyr and Julia) were also in Reading to meet with Dr Martyn Allen and Dr Alex Smith to learn about the brilliant work they are conducting as part of their 'The rural settlement of Roman Britain' project, part of which involves collecting animal bone data. We are very much looking forward to further discussion with them and seeing the continuing results emerging from their research.
Follow us
Keep up to date with the latest project news via our Twitter feed.

ChickenCoop
@Chicken_Project