Something Fishy: the team visits Fishbourne Roman Palace
We have just got back from a very busy and chicken filled weekend so here is a very quick update. On Friday the team had one of our large meetings, this time housed at the wonderful Fishbourne Roman Palace (one of our project partners). Members of the team brought everyone up to speed with how various different areas of work were progressing and discussion of ideas abounded! Many of the Chicken Project team have been attending a wide range of training courses to prepare and develop our research specialisms. It is becoming ever clearer that our integrated approach is forming a hugely varied but interlinked skills base. This blog will soon document these exciting training adventures, so keep an eye out for updates!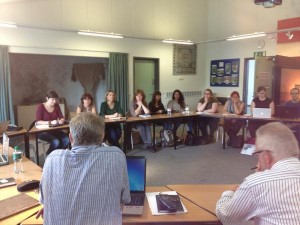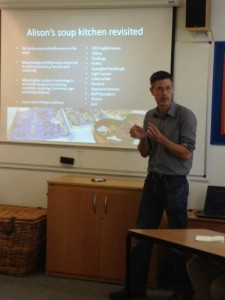 Saturday we moved to Chichester University and the day was filled with the rather fabulous 'Animals! understanding human culture through the ubiquitous others' conference. (http://sussexpast.co.uk/wp-content/uploads/2014/03/Animals-leaflet-FINAL...). The day was stuffed full of fascinating papers and a large number of people with a variety of interests attended. We were especially pleased to welcome several international visitors.
Sunday we returned to Fishbourne Roman Palace to deliver 'Animals in Archaeology activities' and to explore the brand new Dama International exhibit (http://www.nottingham.ac.uk/archaeology/research/bioarchaeology/zooarcha...).
As well as investigating the Fishbourne Fallow Deer, visitors could handle a range of bone material (including mammals, fish and, of course, birds), test their knowledge on the domestication of animals, complete our Chicken Quizz, or even draw their perceptions of the chicken (be it dinner, farming, or feathery friend). We even had an escaped Roman Legionary come to examine the activities and who drew us this rather fine fellow: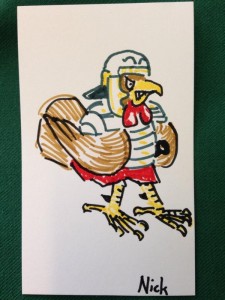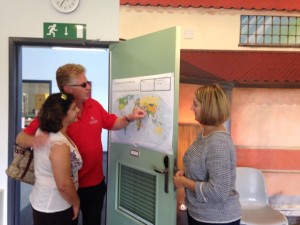 Follow us
Keep up to date with the latest project news via our Twitter feed.

ChickenCoop
@Chicken_Project