Stand Up for Chickens! Being Human in 2015
In 2013, when we started our project researching human-chicken interactions over the last 8,000 years, we were lambasted by the press, in particular the red-tops, who couldn't resist the puns: "What a bird-brained project!", "Researchers are causing a flap!", "Tax-payers are crying fowl!". Can't really blame them, chickens are funny – insignificant, dumb animals whose main purpose is to provide us with meat and eggs. Right? Well...
Regardless of how our team felt about the press reaction, we all agreed it was really interesting, speaking volumes about our culture: in general, the British population is happy to have access to cheap protein but is less keen to question where it comes from, the ethics and environmental impact of its production, or the consequences of our consumer demands on global human and animal health.
These were some of the issues we set out to highlight in our first Being Human event – a fun, but very worthy, day of public engagement. We spent the day talking with members of the public, a self-selecting audience who attended because they felt the same way that we did. As we chatted, we confirmed each-others opinions and gained additional information that strengthened our own beliefs. At the end of the event we patted ourselves on the back, applauding our good day's work. And it was a good day, wouldn't change it – you can find out more about it here. But, on reflection, it's not enough to preach to the converted.
One of the best things about the Arts and Humanities – in particular our ability to study different cultures in time and space – is that they give us the opportunity to stretch our minds and challenge, not simply confirm, our assumptions. Better still is that, through Arts and Humanities research, it is possible to transform attitudes by presenting complex issues in an engaging and accessible way. It was with this in mind that we came up with our 2015 event – comedy! Chickens are funny! Why fight it?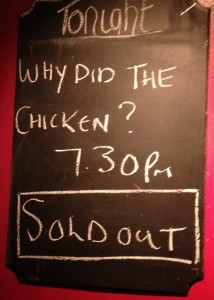 It took some convincing to get our Leadership Fellow, Prof. Barry Smith, to buy into the idea but, once on board, he was as supportive as ever. Barry hooked us up with Science Show-off Steve Cross, who is now the project's Comedian-in-Residence (read about it here).
Steve worked closely with our whole team, attending our project meetings and conducting interviews in order to develop bespoke research-led stand-up material for our event Why did the Chicken…? which took place at the aptly named Hen and Chickens Theater Bar in Islington.
Our Comedian-in-Residence was joined by chicken-lover, Kate Humble (off the telly), Martin 'the egg-man' Austwick and US comedian Danny Lobell, whose beautiful and life-affirming set demonstrated just how important chickens can be in transforming lives for the better.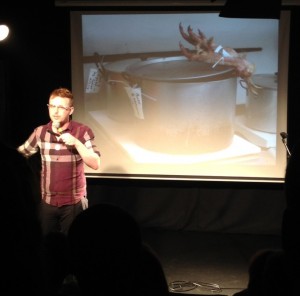 Did we change the world on the night? Nope. But we did film it all in the hope that, through this archive, we can bring our research to more people than were able to attend. It's now available on our You Tube channel, where you can watch the whole thing, or dip in and out of the clips of Steve, Kate, Martin and Danny. Our thanks go to everyone who made the event a success, in particular to our film-maker, Dani Giddins. The only question now is: how do we top this for Being Human 2016?
Follow us
Keep up to date with the latest project news via our Twitter feed.

ChickenCoop
@Chicken_Project
— 3 years 8 months ago

— 4 years 5 months ago

— 4 years 6 months ago

— 4 years 7 months ago